Chicken with artichoke heart and pea tajine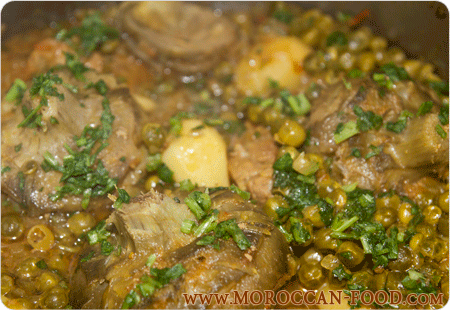 Key info
Difficulty : 2/5
Prep time : 10 min
Cook time : 60 min
Serves : 4
Ingredients :
1 chicken
2 cloves of garlic, minced
2 onions, chopped
½ teaspoon of pepper
2 pinches saffron
1 pinch of ginger powder
3 tablespoons olive oil
1 bunch parsley, chopped
1 bunch cilantro chopped
½ lemon confit
250 g of pea
8 artichoke hearts cooked in salted water
salt and pepper
Recipe :
Wash chicken and drain.
Mix the garlic, onions, pepper, saffron and ginger.
Coat chicken with this mixture and placing the rest inside the chicken.
Heat half the oil in a pan and saute the chicken on medium heat for about 15 minutes, turn the chicken to absorb the spices well.
Enough water to come halfway up. Add the parsley and cilantro. Salt and pepper. Cover and bring to a boil. Pour the remaining oil and cook, covered, over medium heat for 30 minutes, turning the chicken during cooking. At the end of the cooking time remove the chicken from the pot.
Reduce the sauce by crushing the garlic and onions until very thick sauce and golden.
Add the preserved lemon cut into strips add artichoke hearts and the peas and simmer for 15 minutes.
Arrange chicken pieces on a tajine.
When the sauce is reduced and infused with spices coat the chicken pieces and serve hot.
Still hungry for more? Ok! some others recipes of tajines here :
Comments...