Maassel - Lamb tajine with prunes and almonds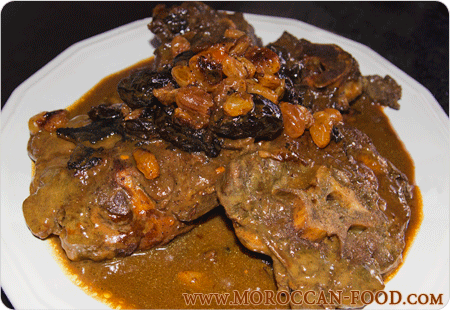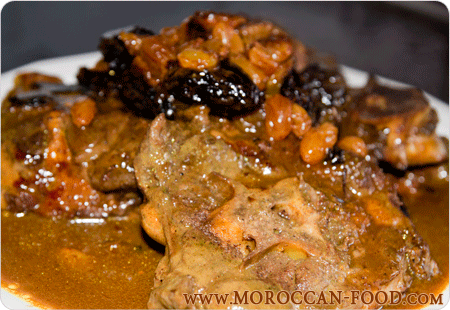 Key info
Difficulty : 3/5
Prep time : 20 min
Cook time : 40 min
Serves : 4
Ingredients :
1 kg of prunes
1.5 kg shoulder or mouse lamb chopped
1 pinch of ginger powder
1 pinch saffron crushed
1 onion, chopped
1 cinnamon stick
5 tablespoons vegetable oil
2 tablespoons of honey
250 g almonds
100 g of toasted sesame seeds
salt and pepper
Recipe :
Wash prunes, place them in a large container. Pour 1 liter of water and leave to swell.
In a pot, fry the meat over medium heat and mix well with ginger, saffron, onion, salt and cinnamon.
Drain the prunes recovering their soaking water and set aside.
Pour the soaking prunes in the pot, stir well and bring to boil. Add 4 tablespoons of oil and cook covered over medium heat for 20 minutes, stirring during cooking and adding a little water if necessary.
When the meat is cooked, remove from the pot and set aside.
Reduce the sauce until complete evaporation of water. Add the prunes and simmer over low heat for 5 minutes. Meanwhile, heat the remaining oil in a pan and sauté the almonds.
Reheat the meat in the sauce reduction add a little honey to caramelize and simmer for a few minutes, until caramelized.
Place the meat in a hot tagine, have over prunes and sauce. Sprinkle with almonds and sesame seeds and serve hot.
Still hungry for more? Ok! some others recipes of tajines here :
Comments...