Vegetables and beef tajine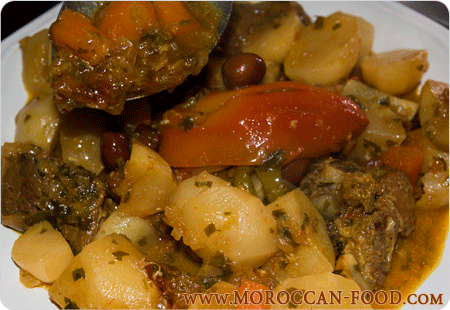 Key info
Difficulty : 3/5
Prep time : 25 min
Cook time : 30 min
Serves : 4
Ingredients :
500g cubed beef meat
2 medium tomatoes, peeled and cubed
3 medium zucchini sliced
2 potatoes peeled and cubed
2 carrots, cut into strips
1 medium onion, finely chopped
2 tablespoons olive oil
2 cloves garlic, crushed
1 beef bouillon cubes
½ teaspoon of salt
½ teaspoon of pepper
½ teaspoon of ginger
4 cups of water
Recipe :
Heat oil in a large saucepan, saute garlic and chopped onions until they become soft.
Add beef cubes and saute for 10 minutes
Add water, bouillon cube and season with spices, bring to a boil and simmer for 1 hour
Add tomatoes, potatoes and carrots, simmer for 20 minutes then add the zucchini for additional 15 minutes.
Add a drizzle of olive oil and serve hot.
Still hungry for more? Ok! some others recipes of tajines here :
Comments...
---