Mshermel chicken tajine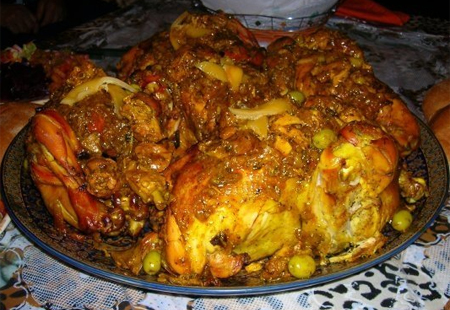 Key info
Difficulty : 3
Prep time : 45 min
Cook time : 90 min
Serves : 5
Ingredients :
2 kg chicken
Saffron
1 Preserved lemon
Some cilantro and parsley
2 large garlic cloves
1 teaspoons ground paprika
1 teaspoons ground ginger
1/2 teaspoon ground cumin
1/2 teaspoon of pepper
4 tablespoons of olive oil
3 onions
some green olives
Pinch of salt
Recipe :
Chicken tagine with olives and preserve lemons
Cut the chicken into 4 to 6 pieces
In a bool combine : Finely chop the pulp of the preserved lemon, garlic, cilantro, parsley, 2 tablespoons of olive oil, pepper, cumin, ginger, paprika
In a large bowl Place the chicken pieces add the marinade and massage into the flesh then let it 3-4 hours
Peel and grate the onions and place them in the tagine (drizzle some olive oil before)
Add the chicken and start cooking on low heat for at least 35 minutes
Soak the saffron threads in some warm water then add it to the tagine
Add some green olives, salt 1 tablespoon of olive oil
Cooking the tagine will take you 60 to 90 minutes.
Still hungry for more? Ok! some others recipes of tajines here :
Comments...
---