Kefta and tomato sauce tajine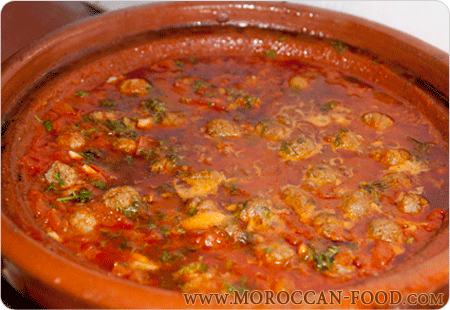 Key info
Difficulty : 2/5
Prep time : 15 min
Cook time : 15 min
Serves : 4
Ingredients :
4 eggs
¼ bunch of parsley
½ teaspoon of ground cumin
½ teaspoon of salt
For meatballs :
1 kg of ground beef
2 sweet onions
2 cloves of garlic
1 bunch of parsley
1 bunch cilantro
1 tablespoon mild chili powder
1 tablespoon rice starch
1 tablespoon of chili powder
For tomato sauce :
100 g butter
1 kg of mixed tomato
1 teaspoon mild chili powder
½ teaspoon of ground cumin
Recipe :
Prepare the meatballs in a bowl, mix all ingredients with hands kneading well
Make meatballs the size of a ball by rolling with palms
Prepare the tomato sauce by mixing all ingredients in a saucepan over low heat for 15 minutes.
Deposited gently meatballs in the sauce and let cook for 15 minutes. Break the eggs and cook for about 5 minutes.
Sprinkle with finely chopped parsley over the tagine.
Still hungry for more? Ok! some others recipes of tajines here :
Comments...